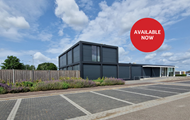 A rare opportunity
We have a new, purpose-built retail space set in the heart of the marina, available for rent.
TOTAL LOT: 1596.46m2
TOTAL BUILDING AREA: 600m2
• Ground Floor area: approx. 400 m2
• Storage space: approx. 100m2
• Top floor (including office, toilet, shower, kitchen):  approx. 100m2
DESCRIPTION:
The building is 4 years old, made up of 48 box units - constructed by The Box System - including a small flat upstairs with kitchen, loo, shower, office, bedroom and meetings rooms. 
The units have a standard size of 3.6 x 3.6m with concrete floors.
In the new zoning plan for the marina there are numerous opportunities for the exploitation of this impressive building. We are open to various sectors such as Leisure and Retail.
The building could also be rented in part or in collaboration with other entrepreneurs.
Ground Floor: On the ground floor you will find approximately 400 m2 of flat space with generous lighting (LED). The entrance has an automatic sliding door. The building has 2 units that both heat and cool. The swing door gives access to the storage area.
Storage: Here you will find approximately 100 m2 of storage space. A meter box with electricity and water connections. A staircase to the upper floor.
Upper floor: The upper floor is approx. 100m2 accommodating an office space with toilet, shower and kitchen facilty. You will find 2 toilets and a shower. There is a canteen area with a simple kitchen (dishwasher available). In addition, there is a dry storage with IT cabinet and 3 rooms for the office. The upper floor is equipped with air conditioning units.
Grounds: From the rear of the building you enter the garden, which is approx. 150 m2 and completely enclosed, surrounded by a wooden fence.
Parking: There is ample parking at the front of the building. A spacious parking area with 26 parking spaces.
Are you interested in a (non-binding) conversation with us?
To enquire, send an email to Maarten Voskuil via: marketing@jachthavenbiesbosch.nl and we will contact you shortly.
Arriving at Jachthaven Biesbosch for the first time?
Take a closer look at what you'll find here
Nieuwe Jachthaven 4924 BA Drimmelen - NL