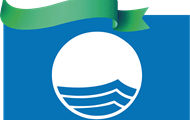 Blue Flag with Green Pennant recognition for Jachthaven Biesbosch
Some marinas want to do more for the environment and sustainability than the Blue Flag demands. In the Netherlands, Blue Flag certified marinas may be eligible for an extra award: the Green Pennant.
In addition to the international criteria of the Blue Flag, the jury considers how some marinas are taking a more holistic approach to sustainability, incorporating environmental, social, and economic factors into their design and management.
For example, extra measures in the field of energy and water saving, sustainable purchasing, use of sustainable building materials, separating waste, and social involvement.
If the marina demonstrates extra efforts in these areas they are awarded the Green Pennant. 
In 2013, these additional criteria were established by the FEE Netherlands. Eight marinas were inspected for these additional criteria and received the Green Pennant on the basis of the results.
In 2023, this group of frontrunners has now grown to 26 marinas with a Green Pennant. Jachthaven Biesbosch belongs to this leading group and we are delighted to announce that we received the Green Pennant award again this year.
Sustainability & Social Responsibility - Statement
Continuing Professional Development

We make an active contribution to the development of our industry and our people by actively committing ourselves to sharing knowledge with other marinas and training new employees who want to learn the trade, while offering continued training opportunities to our staff.

Information sharing

We are proud to fly not only the Blue Flag, but also the Green Pennant. We are happy to share this with others by informing them about our efforts.

Transparency

We make transparent agreements with our customers, guests and suppliers about the products or services we provide. We try to make doing business as pleasant as possible.

Social and Environmental Impact

We determine the social and environmental impact of our services and purchased goods in order to limit a negative impact on people or our environment as much as possible.

Environmental Tax

As a proud neighbour of the National Park De Biesbosch, we are committed to reducing our environmental impact and increasing the sustainable practices of our marina.

Purchasing Process

We are constantly working to improve our purchasing processes in order to focus on goods and services that are sustainable, preferably with an environmental, sustainability and/or social label.

Marina Development

We are working hard to further develop the area around the marina. We do this by using sustainable construction techniques and materials. Naturally, we also equip new buildings with solar panels to generate green energy.

Fuels

To make an extra contribution to the reduction of CO2 emissions, you can only fill up with synthetic diesel. This reduces CO2 emissions by up to 50% compared to fossil fuels.

Water Saving

We have installed water-saving devices in all our toilets and sanitary areas to minimise drinking water consumption.

Waste Collection & Recycling

To keep the environment and the water clean, we offer the possibility to pump out bilge water and waste water, and to empty sanitary facilities in the correct manner. The marina also has various waste separation bins for the recycling of waste material. This is how we keep the marina and the surrounding water as clean as possible.

Energy

The entire port has twilight and movement switches to prevent unnecessary energy consumption. We use energy-efficient lamps to save as much energy as possible.

Safety Equipment & Fire Extinguishers

To ensure maximum safety, each building and pontoon/jetty has one or more fire extinguishers and there are several life buoys on each pontoon/jetty. 

Marina Regulations

Our marina has comprehensive regulations that we ask everyone to adhere to. Our marina regulations contains the codes of conduct and restrictions on our marina users with regard to safety and the environment.