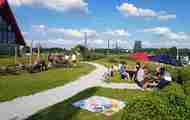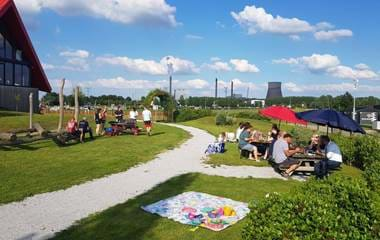 BBQ & Cobb-Terrace
For many, the true holiday feeling includes barbecuing. This of course is not possible on the pontoons or the camper spots, but there are a few robust BBQs ashore in the Adventure Playground and in the yellow basin, that we welcome you to use.
You can now also use the Cobb Terrace located right next to the Marina office! You pay a deposit and a small fee for the use of the stone, and you return the Cobb to us after use.
Bring your own tablecloth, food, wine and good company ... Enjoy your meal!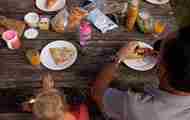 Eating Onboard
If you plan to eat onboard, you might just need a few provisions to prepare your delicious meal or to stock up your galley. A new minimarket is located behind restaurant Boeien for all necessities. 
The minimarket has recently been opened. but you'll find supermarkets Aldi and Jumbo in the town of Made, 4 kms from the marina for your big groceries.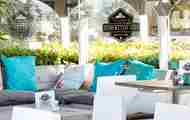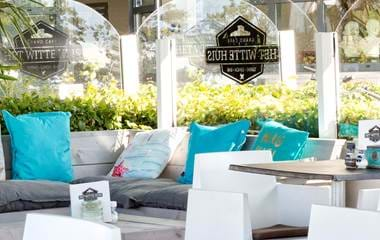 Eating Out
If you prefer to eat out, there's plenty of choice.
At Grand-Café Het Witte Huis, you don't have to be president to feel right at home. Relax in the cozy atmosphere and look out over the entire harbour.
You're also in the right place for a party! With Restaurant More-Itz, Drimmelen has gained a beautiful beach club. Here it's all about people-watching, being seen and enjoying the best of life on the water.
Restaurant Het Panorama has been a household name in the harbour for years, due to their beautiful location on the river. The stone grill is their specialty and their mussels are unrivalled. A big advantage ... they are open 7 days a week all year round.
At Restaurant Boeien, you can enjoy delicious pancakes and burgers in an attractive atmosphere, while the children can romp around in the beautiful indoor playground. They also organize children's parties.
The newest addition to the port is De Sloep, where you can enjoy lunch, dinner or just relax and enjoy the view. While your children are jumping on the air cushion in the shape of a real pirate ship.
You can also get crispy fried kibbeling at Vistaria Rijk, experience the Steppe grass fries at restaurant De Zuiderklip, enjoy a delicious coffee at minigolf 't  Drimmeltje.  And, if you walk a little further, you will reach the cozy cafes and Restaurant 't Voske in the old marina or Beachclub Puur on the swimming beach.
Whatever you choose: Enjoy your meal!