Working together to help you prepare for the start to the season, various water sports shops and maintenance companies in Drimmelen have organized a Boat Safety Day.
Think of seasonal maintenance, safety & rescue equipment, and the like. Do you still need a gas inspection or filling of your fire extinguishers?
Take the opportunity of this day to make an appointment with the entrepreneurs!
Who is participating? 
Van Dulst Watersport, adviseren op het gebied van "sloten, reddingsmiddelen en motoren"
Wij zullen als Van Dulst watersport meedoen met de preventie dag gezamenlijk met de andere ondernemers.
Deze dag zal bij ons in het teken staan van sloten, beveiliging en reddingsmiddelen.
U kunt hierbij denken aan diefstal en inbraak preventie van uw boot en of buitenboordmotor doormiddel van de juiste sloten en of zelf camerabeveiliging.
Voor de beveiliging van uw schip of jacht op afstand zal onze leverancier Van Dulst automatisering en beveiliging hier ook aanwezig zijn om u hierin te adviseren en informeren.
Ook zullen wij u deze adviseren op het gebied van reddingsmiddelen welke essentieel bij het beoefenen van de watersport maar ook (reddings) middelen die zelfs verplicht zijn op het water.
Wij hopen er een mooie en vooral informatieve dag van te maken, en zien u graag op 15 april in onze winkel.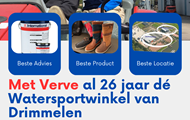 Watersport Met Verve, adviseren op het gebied van "onderhoud aan het schip"
Met Verve al 26 jaar de Watersportwinkel van Drimmelen. Beste Advies, Beste Product, Beste Locatie.
Kwaliteitsproducten en aandacht voor de beste verzorging van uw jacht, Zelf doen, of aan ons de zorg voor uw jacht uitbesteden? Het kan allemaal, want u staat als klant, bij ons centraal.
Oome Boten Motoren & Service, "adviseren op het gebied van motoren en service"
Deze dag staan wij voor u klaar om uw vragen over wat u kunt doen om motorstoring te voorkomen. Wij willen u dan advies geven over hoe vaak en wat voor onderhoud het beste bij u en uw schip/motor past. En natuurlijk ook wat voor onderdelen en oliën daarbij passen. Ook staan we klaar om u advies te geven over de diverse toevoegingen die u aan olie en brandstof toe kunt voegen om alles goed draaiend te houden of bepaalde symptomen te voorkomen of te verhelpen.
Wij zien u staan u graag te woord en tot dan.
Team Oome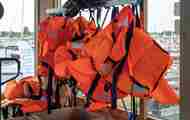 Want to know more?
You can talk to any company to get specific advice for your boat and advice on the products and services they provide.