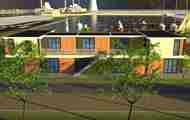 Owners Brenner Verhagen and Marjolein van Schendel hope to receive the first hotel guests around Easter. It will be a family hotel with forty rooms", says Verhagen. Almost all the rooms have a view of the yachts.
The hotel on the Marinaweg consists of three detached buildings and will be realised in phases. The first part will be built in the coming months. The rest will probably follow in the autumn of 2022. The hotel can then be expanded quickly, because, like De Sloep, it consists of modular units.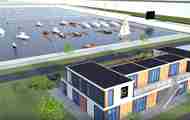 Sustainable hotel
We consciously opted for units that had been used before. In this way, we are giving another building a second life", says Verhagen. We are building in a modular and circular way, because we want to build a sustainable hotel. That is a requirement for us in these times. That is why there will also be solar panels on the roof and why we are providing heat pumps and extra insulation, among other things."
Verhagen already announced in April 2019 that he wanted to build a hotel next to De Sloep. However, the arrangement work took longer than expected. "But the municipality and the marina have helped us well," Verhagen emphasises.
In two weeks time, the units will be placed and in December the first floor will be put on top. By then, the contours of the hotel will be visible. With two storeys it will be a modest building that fits in with the surroundings, but it will have a luxurious finish."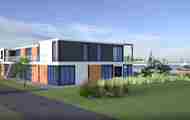 Rooms with kitchen
Sixteen rooms will be built in the first section. We will start with family rooms for up to six people and spacious rooms for two or three people. All rooms will have a kitchen, so that guests can make a cup of coffee or prepare a meal themselves."
Hotel De Biesbosch will be a base from which to explore the surrounding area. From here, guests can go cycling, sailing or visit the Efteling," says Verhagen. Or they stay a little longer in the marina, which also benefits the other entrepreneurs in the area.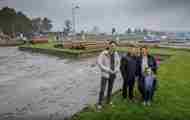 Residential marina
The arrival of the hotel will make the marina an even more residential port', says Joost Meijers of Marktrecreatie. He advises Verhagen and Jachthaven Biesbosch on new developments in the area. The marina wants to move forward and the arrival of a hotel fits in well with the plans for the area.
A lot is going to happen in and around the marina in the next few years. Holiday villa's will be built along the Amer and the area between the marina and the old marina will be redesigned.